Currently in Development: A musical version of my novel, NINE WIVES, with Douglas J. Cohen, best known for The Gig and No Way to Treat a Lady, and winner of the 2010 Fred Ebb Award.
MUSICAL "13" ON BROADWAY


I co-wrote the book for "13," an original musical with music and lyrics by Jason Robert Brown (Tony Award, best music and lyrics, "Parade," 1999; Drama Desk Award, best music and lyrics, "The Last Five Years," 2002). "13" tells the story of Evan Goldman, a New York kid, whose parents' divorce lands him in the middle of Indiana a month before his Bar Mitzvah. The show stars thirteen 13 year olds; the onstage band is also made up of teenagers. The show was first produced at the Mark Taper Forum in Los Angeles in the winter of 2007 and received the Los Angeles Drama Critics Circle Award for best production. The show then moved to Goodspeed Opera House in CT for a limited run in the spring of 2008 and ran on Broadway at the Jacobs Theater from September 16, 2008 through January 4, 2009. To read assorted reviews of the Broadway production: http://www.didhelikeit.com/shows/13-reviews.php. For information on licensing the show: www.mtishows.com.
The Great Squirrel Uprising at The LaGuna Playhouse!
The Great Squirrel Uprising is a one hour children's show for which I have written book, music, and lyrics. Based on my novel, this musical tells the story of a group of determined squirrels and pigeons and their quest to evict humans (and their noise and litter) from New York City's Central Park. First produced in New York in 1995 at the Mazur Theater, the musical was recently presented at the Laguna Playhouse in Laguna, California, in October 2006. To read an article about me and the show, please visit: squirrel article
I have written the music and lyrics (and sometimes book) to five other musicals. Scripts and demos are available upon request. They are:
Corporate Law, a Musical Comedy - a spoof of life in a New York City lawfirm, the show follows the rise and fall of Johnny True on his first few days on the job at Weasel, Waxel & Whine.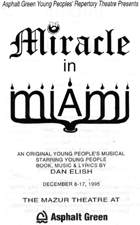 Miracle in Miami, a one hour children's show, produced in 1995 at the Mazur Theater in New York. A burnt-out, fed-up, Santa Claus goes to Miami for his annual vacation where he is befriended by Monica Stein, a Jewish girl just shy of her Bat Mitzvah, and Monica's romantically inclined Nana. Eventually, Santa relocates to the Everglades, but problems with his elves and nosy tourists propel him to make a decision about returning to the North Pole. [review]
Just Desserts, a two act children's show, produced in 1993 at Fordham University. Based on my book, this musical tells the tale of John Applefeller and his epic quest to overcome the curse of changing desserts and win the annual Worldwide Dessert Contest held every year in his hometown of Appleton. Special features include: rhyming dessert chefs, an arrogant dessert-making villain, a head judge with a caramel apple permanently attached to his face, and roller-skating apple pies.
And way back in college I wrote a show called Twice Upon a Time (a musical with Brigadoon overtones) and Paul Bunyan: A Musical Tall-Tale, a tongue-in-cheek, celebration of the great lumberjack and all things tall-taled.